Do you have a flag?
There's no way I will explain this better than Roman Mars, the creator of the excellent educational podcast 99% Invisible, so I'm just going to start by embedding his TED Talk here. It's very much worth watching:
Currently San Bruno has a city seal, and I've seen that seal printed onto a white sheet and used as a flag, but we don't have a proper flag, one that is memorable, recognizable from a hundred yards away. A good city flag can be used on materials from city government, schools, and non-profits. It helps establish the identity of the city for the wider region, making it a more attractive place to locate a business, especially if the flag image is made available for under something like a Creative Commons license, such that local businesses can use it in their own branding.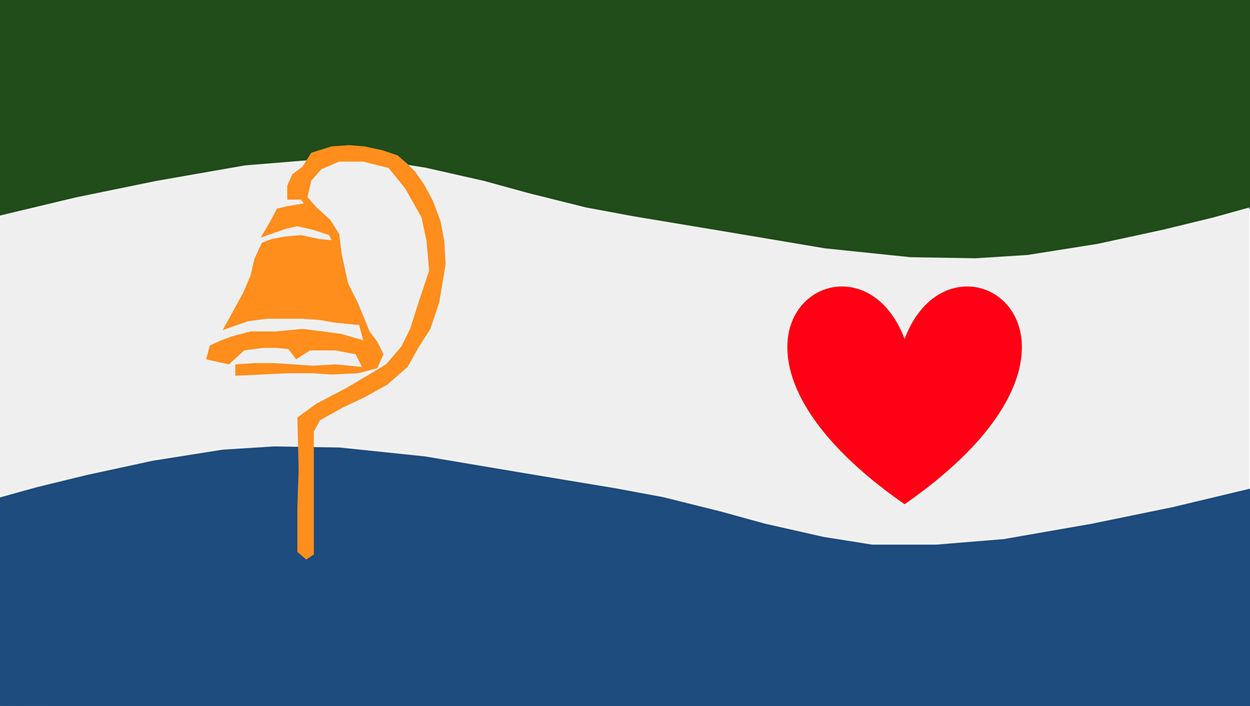 If elected, I will seek to work with our Culture & Arts Commission to sponsor the creation of a flag, taking submissions from citizens, and soliciting contributions from artists around the Peninsula, especially those with ties to San Bruno. The color scheme I've chosen for my campaign is drawn from my own idea for a San Bruno flag. My skills at producing art may leave something to be desired. This is the best I could do using the drawing tools in PowerPoint. I think it at least gets the idea across.
The field is split by wavy lines into three portions: navy blue at the bottom for the waves on the Bay, pale blue-gray for the fog that rolls in on the flats every day for much of the year, and forest green for the rolling hills to the west.
The bell is taken from our city seal, and represents our historical roots in the era of Junipero Serra's missions along El Camino Real. I've gone back and forth on whether to just use the bell itself, or the bell hung from its post. I like that the post makes it more recognizable as specifically an El Camino bell, but it does raise the level of fine detail a bit higher than is ideal, and a version trimmed down to just the bell could fit comfortably on the gray bar, at the same height as the heart.
The heart reflects our town motto, "the City with a Heart," which is of course rooted in the development of the Cupid Row area in the mid-twentieth century, as we transitioned from a rural farm town, to becoming a modern suburb.
The Heart, of course, is part of District 4.
If you have thoughts on what a great San Bruno flag might look like, I'd be happy to post submissions from fellow citizens on this page.
Within hours of posting this, I got feedback from a few friends with suggestions: simplifying things and cutting one color by tossing the bell (which is kind of an overly detailed element), darkening the gray bar a bit to make it more clearly gray-blue rather than white, and expanding the heart to span all three bars, while softening its color a bit. With those changes, we'd end up with something like this.
I think once people start engaging with this, almost everyone has ideas to contribute. The Culture & Arts Commission could, over the course of six months to a year, crowd-source a design that we'd come to love as the shared banner of our town.